We all know at least one woman who has lost her life due to complications from childbirth; or a child who died from a sickness. Across the globe, countless lives are lost every day due to the lack of access to essential medical care. Families are torn apart, dreams destroyed, and communities left endangered. But some of the most heart breaking statistics come from the following areas:
Maternal Mortality
Pregnant women in underprivileged communities often face a deadly fate due to lack of access to proper healthcare. The world should be celebrating the miracle of birth, not losing women and children to inadequate medical care and attention.
Infant Mortality
Everyday, children die. If not for anything but lack of access to healthcare. Infant mortality rates in impoverished regions are on the high, demonstrating the need for a change.
Physically Challenged People left helpless
We find so many physically challenged people lying helpless on the streets or rendered immovable due to lack of support. This is particularly disheartening for many of us to watch and ignore.
We certainly need to confront this harsh reality head-on. How?
At HAEF, we want to create a system where no one is denied access to healthcare due to their financial circumstances. We believe in such a world and are committed to providing free access to medical services, particularly for pregnant women, children and physically challenged individuals. But to bring this vision to life, we need you. Yes, you!
The Goal: HAEF's ambition is crystal clear; we aim at raising 20 Million Naira (Twenty Million Naira) to bring the following goals and mission to life:
Supporting 50 (Fifty) Underprivileged pregnant women with delivery fee:
Carrying a child in the womb for nine months is a lot of effort and sacrifice. It's like sowing a seed and waiting to reap the harvest. Pregnancy and childbirth should be moment of Joy, not fear and grief. Therefore, your contribution will ensure that 50 underprivileged women can experience safe and smooth deliveries, laying the foundation for healthier families.
Surgery Fee for 50 underprivileged children
Let's remember that children are our future and by all means, we must make sure they survive and thrive. By donating towards this project, you can help impact the lives of 50 underprivileged children whose depend on surgery to survive and live.
Purchase of wheelchairs for 50 physically challenged individuals
Every human has the right to the freedom of movement. Yet, it's sad to find many who are physically challenged lacking access to wheel chairs. You know what that means? Helplessness, dependence and frustration. Therefore, your support will provide 50 underprivileged with the gift of movement, thereby helping them to live more independently.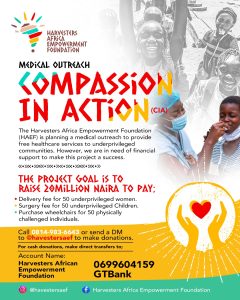 Why does my contribution matter?
Listen, your act of giving goes beyond the simple transfer of funds. It shows how much you value human lives and how much you're willing to make a difference.
How can I be the lifeline?
Donate with purpose
No matter the amount, your donation can help change a life. All you have to do is donate into this account:
Account Name: HARVESTERS Africa Empowerment Foundation
Account Number: 0699604159
Bank: Gtbank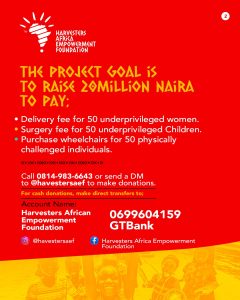 Share this message
Share this blog post as well as the mission far and wide. Also, encourage your friends and loved ones to join hands in this effort.
Volunteer with us
Become a part of this project by volunteering with HAEF. You could be the missing piece.