10 Unique Ways to Manage Depression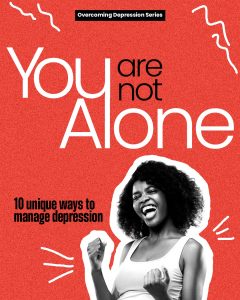 Depression is an enemy to everyone. Yeah, that's right! One minute you're super happy and excited about almost everything and the next minute, you feel the exact opposite and everyone's wondering what could have happened. It literally sneaks up on you when you least expect it, wrapping you in a cloak of darkness and despair. It feels like you're trapped in a pit with no way out, and that no one understands the pain you're going through. It can be really challenging to manage, and sometimes it can feel like there is no end in sight.
Picture this: You wake up in the morning and feel a heavy weight on your chest. Your mind is racing with negative thoughts and you can't seem to shake the feeling of sadness that's been haunting for days, weeks, or even months. You try to put on a brave face, but inside, you feel like you're drowning.
If you've experienced depression, you know exactly what I'm talking about. It's a struggle that millions of people face everyday, and it can be incredibly difficult to manage on your own. But what if I told you there was hope? That regardless of how long you've been in that put, there is a way to break free and find healing.
That's the aim of this post. So, if you're battling depression, and you're in a hurry to leave this site, you may want to rethink.
As a community of believers, we know that we are not alone in our struggles. We serve a God who sees us in our darkest moments and offers us hope and healing. The Bible is full of real life stories of people who faced their own struggles and came out stronger in no time. One powerful  example of such is Elijah, a whole prophet of God! In 1 Kings 19, we see Elijah running for his life from Queen Jezebel, who wanted him dead. Elijah was a prophet of God, but even he struggled with fear, doubt and despair. He felt alone and hopeless, and begged God to take his life. 
Elijah's story is a powerful reminder that depression is no respecter of persons. It can affect anyone, even the strong and mighty in faith. But pay attention to this: despite his struggles, Elijah did not give up. He turned to God for help and found comfort in his faith. When he did, God provided him with food and water, and sent an angel to strengthen him.  And when he was ready to face his fears, God gave him the courage to stand up to Queen Jezebel and continue his work as a prophet. 
Question: Are you ready to face that depression? What lie has the enemy told that keeps you in that constant state of depression? That you'll never make it? That you're not good enough? That the challenge is going to end you? That you have a terrible family history? Hear this: God is the solution but he would never move until you turn to him. Like Elijah, we too can find hope in God. When we feel overwhelmed by our struggles, we can turn to God and find comfort in his love and grace. 
Healing from depression takes time, and you need to take really good care of yourself. So here are 10 proven strategies that will help you manage depression even better:
Start your day with gratitude: Instead of hitting snooze on your alarm, take a few moments to reflect on the good things in your life. Start your day with a positive mindset and thank God for the blessings you have.

Talk to God: Feeling overwhelmed with emotions? Talk to God about it. Pour out your heart and soul, and trust that He listens. Like Elijah, he will literally send angels to strengthen you.
Practice self-compassion: Treat yourself with kindness and understanding. If you're feeling down, remind yourself that it's okay to not be okay, and that you are loved and valued by God.
Create a vision board: use visual cues to remind yourself of your goals and dreams. Create a vision board with images and words that inspire you and motivate you to keep pushing forward.
Get moving: Exercise releases endorphins, which can help improve your mood. Go for a walk, take a yoga class, or hit the gym to get your body moving and your mind focused.

Volunteer your time: Helping others can give you a sense of purpose and fulfillment. Look for opportunities to volunteer in your community, at your church or with a non-profit organization.

Practice mindfulness: Focus on the present moment and pay attention to your thoughts and emotions without judgment. Practice mindfulness techniques like deep breathing or meditation to help reduce stress and anxiety.
Laugh more: Laughter is the best medicine. Watch a comedy, spend time with friends who make you laugh, or engage in activities that bring you joy and laughter.
Seek professional help: Don't be afraid to seek professional help if you need it. Talk to your doctor, therapist or a psychiatrist who understands your faith and values and can provide you with tools to manage your symptoms.
Join our EmoHeal group: Our mission as a church is to help individuals overcome depression when they're faced with it. By joining the Emoheal group, we can easily identify with you and lift you out of that challenge in no time.
Remember, coping with depression is a process and it takes time. So, be patient with yourself and trust in God's love and grace. With these strategies and support of the Harvesters community, you can find hope and healing. 
Before moving on from this post, ensure that you join the Emoheal group today by clicking here.
Love and Blessings always,
Harvesters Team