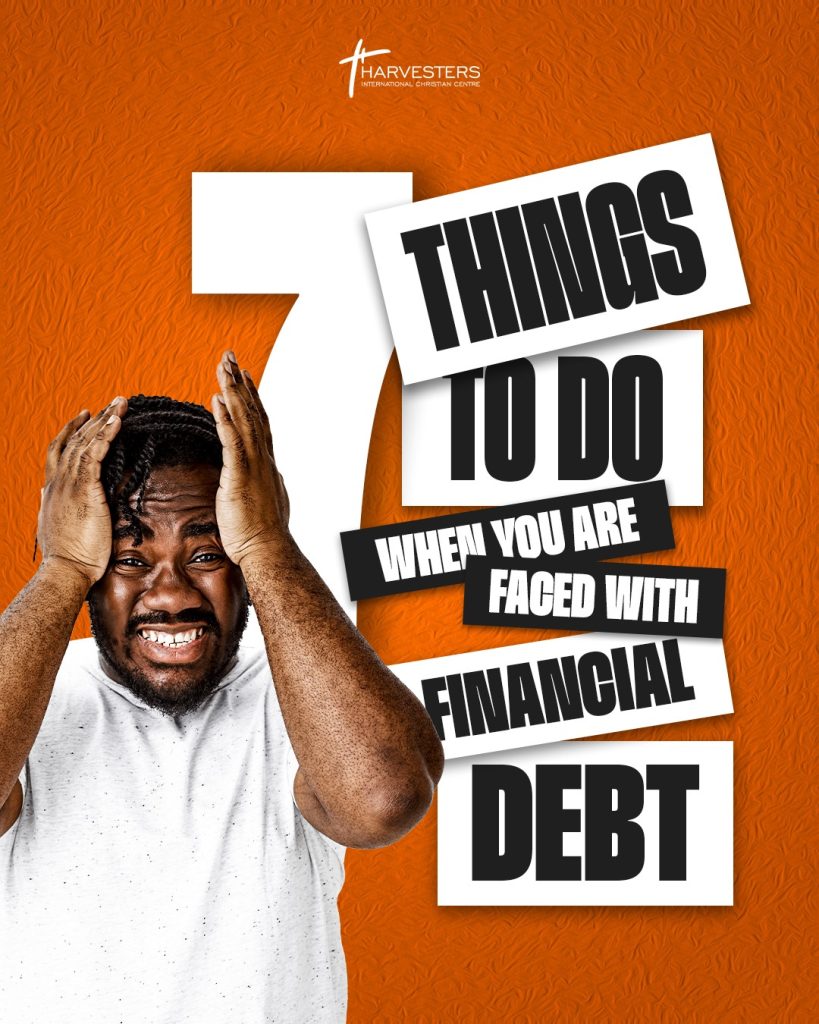 Financial debt is a common challenge that many people face, and as a believer, it can be difficult to know how to handle it in a way that aligns with our faith. Sometimes, it feels like you are drowning in debt and trapped in a financial hole; and sometimes, it feels like the debt is controlling your life with stress and anxiety constantly leaving you weak and famished.
Perhaps, one of the reasons that debt can be especially challenging for Christians is because of the emphasis that the Bible places on financial responsibility and stewardship. In Proverbs 22:7, for example, it says, "the rich rule over the poor, and the borrower is slave to the lender". This points to the idea that debt can be a form of bondage and can limit our ability to live freely and fully as God intended.
Furthermore, debt can make it difficult for Christians to give generously to Kingdom projects and other charitable causes. In 2 Corinthians 9:7, it says, "each of you should give what you have decided in your heart to give, not reluctantly or under compulsion, for God loves a cheerful giver". When we find ourselves in some sort of financial bondage, the truth is we may not be able to give as much as we would like, and may feel guilty or ashamed about our financial situation.
However, no matter how challenging debts can be, as Believers, we can take comfort in the fact that God has provided us with assurance and promises regarding our financial debt. We need to constantly remind ourselves that God is always our provider. Look at what Paul says in Philippians 4:19, "And my God shall supply all your needs according to his riches in Glory through Christ Jesus". If we know this, we can rest assured that our debts are already a settled deal and that no matter what, debt will not see the last of us. See what the Bible says again in Psalm 34:17, "The righteous cry out, and the Lord hears them; he delivers them from all their troubles." This verse only points to one thing- God cares about our financial situation and wants us to have a debt-free living.
As Christians, we have access to unique resources and perspectives that can help us navigate this challenging situation. Here are 7 powerful biblical money management strategies and things that Christians can do to tackle debt and have a debt-free living:
Pray: The first and most important thing that you should do when in debt is to pray. As overwhelming as the debt may be and as trivial as prayer might seem to you at the instance, God is still your only hope. In praying, there are three things you need to specifically ask God for: guidance, wisdom and provision. You need to ask God to help you discern the best course of action, and to provide for your needs. Don't forget what Jesus instructed us to do in Matthew 7:7. Let this inform your prayer for finance.
2. Seek counsel: Proverbs 15:22 says, "without counsel, plans fail, but with many advisers, they succeed." Seek advice from spiritual fathers, mentors, experts, family and trusted friends. Never be afraid to ask for help, and be open to their suggestions and insights.
3. Create a budget: It is essential to have a clear understanding of your income and expenses when in debt. One useful budgeting tip for Christians is to create a budget that outlines your monthly income, expenses, and debt payments. Be honest with yourself about where your money is going, and seek out ways to cut unnecessary spending.
4. Negotiate with your creditors: If you're struggling to make your debt payments, don't be afraid to negotiate with your creditors. Explain your situation and ask if they are willing to work out a payment plan or reduce your interest rates.
5. Increase your income streams: There's absolutely nothing wrong in having multiple streams of income so look for ways to increase your income, such as taking on a side hustle. Use the extra money to pay down your debt more quickly.
6. Live within your means: It's important to live within your means and avoid taking on new debt. Cut back on non-essential expenses and focus on paying off your existing debt.
7. Trust in God: Finally, trust in God's provision and care for you. Remember that God is faithful, and He will supply all your needs. As it says in Matthew 6:33, "But seek first his Kingdom and his righteousness, and all these things will be given to you as well."
In conclusion, as Christians, we can take comfort in God's assurances and promises regarding our financial debt. We can trust that God will provide our needs, help us overcome our struggles, and give us the grace and strength to deal with our financial challenges.
More than anything else, as humans, we all need people to talk to and connect with during our difficult times. If you are seeking to grow as a believer, our small groups are your best bet for that. So feel free to join a small group today and start sharing your thoughts. CLICK HERE now to join.